Invisalign: The Clear Alternative to Metal Braces
Clear and Simple
Premium Quality Clear Braces

Customised to suit you and only you
Invisible
Cutting edge technology

Smile with great confidence
Rapid results
Straighter teeth in 6-9 months

Call us to find out if you are a candidate
Enjoy your Life
Made with your comfort in mind

Convenient and removable
Payment Plans
Fee from $77 per week

Terms & Conditions Apply

Using our interest free payment plans
Get your teeth aligned with the clear, comfortable and easy-to-use Invisalign® system!
Have you thought of improving your smile to boost your confidence?
Do you want to straighten your smile invisibly?
Would you like to know more about Invisalign?
Begin your journey to a straighter smile.

Did you want to see what your new smile will look like? Click on the button below for a smile simulation and find out.
A Highly Effective Solution for a Straighter Smile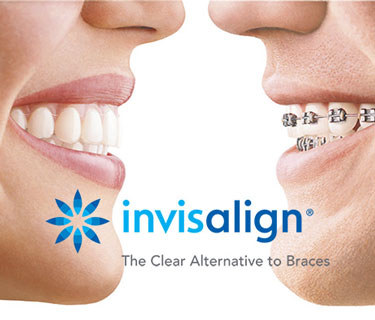 You'll start off meeting Dr Adrian or Dr Rob for a consultation so that we understand what you want to achieve. Photos and sometimes X-rays are taken to fully analyse your case.
We will then image your mouth with our highly advanced 3D imaging camera on your teeth. This is then followed by a real time simulation of what your teeth will look like if they are straightened! Gone are the days where we have to do uncomfortable putty impressions in your mouth!
Our dentists have taken postgraduate courses in Invisalign® to understand how this advanced solution can benefit you and help you reach your dental goals.
Use your insurance coverage or our convenient interest free payments plans! Get scheduled for a convenient Saturday or same day appointment. We look forward to discovering how we can help you smile brighter!

Latest technology from Invisalign at our practice. No more putty in your mouth! Learn more in the video
Just how does Invisalign work?